When you look at the chart on Aurora Cannabis (NYSE: ACB) the stock is sliding lower and lower, pushing downwards to all-time lows. The cannabis industry has taken a major hit due to too many companies entering into a brand new industry all thinking that there was going to be an overabundance of demand. None of that materialized. There is now an overabundance of supply. Aurora, once one of the darlings of the cannabis industry, has downsized demonstrably from its peak. The company had spent a great deal of its available cash on hand without an in-kind return on its investment (diminishing their defensive position). Since, the company has begun issuing more and more stock to raise cash, continually pressuring the stock price. Now at these much reduced prices, the question I wanted to know is: Could this be a buying opportunity for the stock?
Here is a look at the ACB chart, both on a short-term and long-term basis: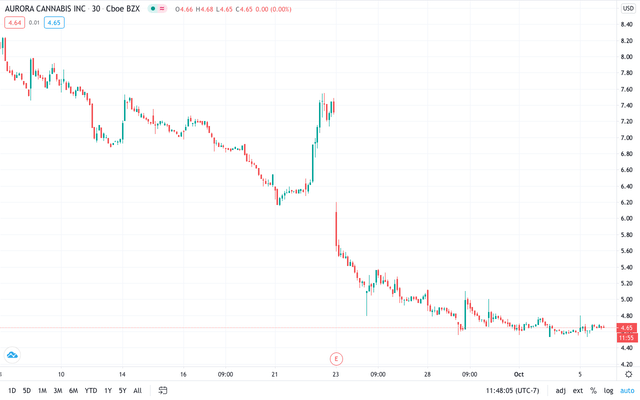 (Chart Source: TradingView)
But, it is a look at the all-time chart…
Original Author Link click here to read complete story..