Blue widow is a slight indica dominant hybrid.  We noticed the large buds in the case at Best Budz in Colorado Springs and had to try some.  We purchased 7 grams which was part of an ounce we got for $100, so the cost was $25 for a quarter.  The buds are large and slightly sticky.  We were not able to break the buds down by hand due to the stickiness and so used a Diamond Grinder to grind the weed.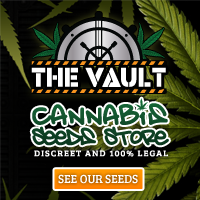 My friend and I shared a bowl of this in the glass pipe.  The taste is slightly piney, and the effect is pretty quick, a cerebral high that also relaxes one.  My friend remarked that this was some good quality bud and it made him cough right off.  He is a heavy user who dabs, so I trust his opinion.  The effect lasted until bed time, about 2 hours, at which point we had a restful night's sleep.  The buds have orange hairs and the photo does not do them justice.
I also tried the Blue Widow strain in the PAX-2 Vaporizer.  Vaping the strain gives a berry sort of taste which is pleasant.  The coughing is not as pronounced when vaping, although three or four pulls on the vaporizer does result in coughing.
I can recommend this bud for vaping or smoking.  It doesn't really have a high thc percentage (16% high), so it's a good cerebral high yet relaxing.  May help with pain and appetite control as well.  If you come across this strain, do try it out.
Looking To Grow your own buy seeds from : Cannabis Seeds Store U.K features hundreds of the worlds best marijuana strains for sale in Feminized, Auto-flowering, medical and regular varieties. You can buy our marijuana seeds online with worldwide guaranteed shipping.
Reference for more information:  Visit Wikileaf.com