Following the Cannabis Control Commision's approval of two new marijuana delivery licenses, the Boston Cannabis Board and the Mayor's Office of Economic Development held a virtual information session Monday, preceding the CCC's release of license applications in the coming months.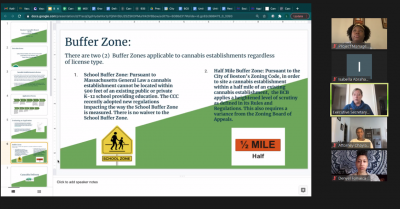 The public meeting began with a presentation explaining the application process for Boston cannabis establishments.
Boston must locate at least 52 recreational cannabis dispensaries — not including medical, laboratory, cultivation, manufacturing or delivery establishments — according to Massachusetts General Law.
"We want to give everyone an equal opportunity to open an establishment," BCB Project Manager Jasmin Winn said.
The general procedure for non-delivery candidates starts off with an in-depth online application to the board and a zoning release, followed by a rejection letter from the Zoning Board of Appeals that must be appealed before a community meeting.
"They've been very transparent throughout the entire process," said Christopher Fevry, co-founder of cannabis delivery company Your Green Package. "I want that to be highlighted, that the Commission's been very transparent."