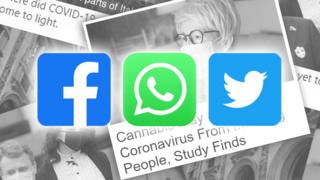 Social media is awash with posts containing fake and misleading information about the coronavirus pandemic.
We've been fact-checking some of those claims most widely shared this week.
Bogus 'protective' badges
So-called "protective" badges which ward off viruses are being sold around the world.
Some of the badges, featuring a white cross design, appear to be of the type falsely marketed as "virus stoppers" in Russia. Some members of the Russian parliament wore them at a recent meeting of the State Duma.
However, the US Federal Drug Administration (FDA) says the substance released by such badges – the bleaching agent chlorine dioxide – is harmful. It says claims that it helps protect against Covid-19 are "fraudulent".
BBC News Russian asked MP Andrei Svintsov why he wore a "virus blocker" badge. He replied that he didn't know whether it worked or not, but he hasn't fallen ill yet.
"I have chewed ginger, and I'm taking Vitamin C. All the rubbish that they say on the internet, I'm using all that. Just in case."
President Vladimir Putin's spokesman, Dmitry Peskov, has been seen wearing a similar product, but last week Mr Peskov confirmed he had been diagnosed with coronavirus and is currently in hospital.
Dr Wayne Carter, a biochemist and Associate Professor at Nottingham University said the badges could not prevent coronavirus which is "primarily spread in droplets from sneezes… that are inhaled (or possibly ingested) – and that will initiate infection".
Cannabis treatment
Thousands of people have shared articles referencing cannabis as a treatment for coronavirus, but some of the headlines have been misleading.
It's true that there are several trials taking place worldwide, including in Canada, Israel and the UK, investigating whether cannabis could be useful as a treatment.
Medicinal cannabis has been shown to reduce inflammation and so could, potentially, be used to treat "cytokine storms" – the dangerous immune response sometimes seen in the sickest Covid-19 patients.
But these trials are at a very early stage, so it's too soon to draw any conclusions about whether cannabis will prove an effective treatment against coronavirus.
One of the articles about a Canadian study has been flagged on Facebook for containing partly false information. An author of this research even told the PolitiFact website that the headline claiming cannabis may stop the virus from infecting people was "an overstatement."
The potential for cannabis to treat various conditions has attracted particular attention in recent years, with mixed evidence.
Virus origin speculation
Speculation about where the new coronavirus first emerged has been rampant online.
We looked at a recent video from a Chinese state media outlet which suggests just because the virus was first reported…
Original Author Link click here to read complete story..