"There'll be a big delta between relatively low vacancy rates in modern office buildings in all markets and the older buildings at 30, or 40, and some of them are 50 years old, they're really going to struggle to retain tenants."
The Investa analysis shows that gross face rents – which don't factor in the effect of incentives on overall rent – are rising in response to the demand for prime CBD office space.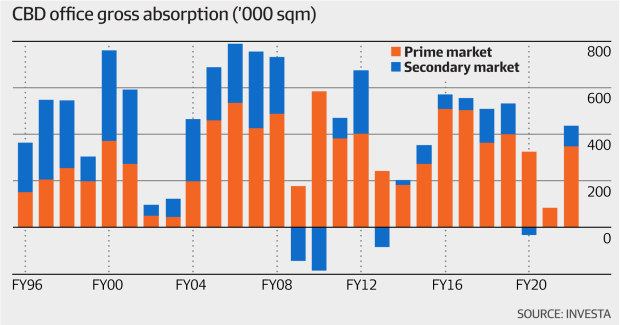 Through the first half of 2022, Sydney CBD and Brisbane CBD prime office
rents increased at an annualised rate of 9 per cent and 14 per cent respectively. The other CBD markets experienced a more modest annualised growth rate of 5 per cent or less.
Nevertheless, some of that growth is the result of rising inflation. As incentives moderate, there may also be some growth in effective rents, however, after factoring in the impact of inflation, real rents are still falling, on the Investa analysis.
"Most office lease terms provide rent as an effective hedge against inflation," Mr Cannington said.
"Office rents effectively stalled through the pandemic and growth in real terms, ie adjusted for inflation, is running at the lowest rate since 2010.
"However, inflation-indexed rental increases and rent reviews, combined with positive leasing demand, are expected to drive further growth in nominal prime market office rents over the coming year."
Original Author Link click here to read complete story..