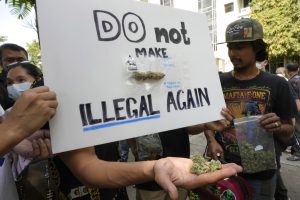 Cannabis supporters hold pieces of cannabis while gathering outside the Government House in Bangkok, Thailand, Tuesday, November 22, 2022.
Credit: AP Photo/Sakchai Lalit
Back in June, when Thailand became the first nation in Southeast Asia to legalize marijuana, legalization advocates celebrated the move as a step forward for personal freedom – and a rare glimmer of rationality in a region known for its draconian drug laws. But five months later, they have taken to the streets to protest a growing push by conservatives to re-list cannabis as a narcotic.
On Tuesday, around 200 protesters, some wearing T-shirts emblazoned with marijuana leaf motifs, rallied at Government House in Bangkok to protest the possible rollback of the drug's recent decriminalization. As The Associated Press reported, "Tuesday's rally brought together cannabis farmers and shop owners who stand to lose out financially, as well as smokers who want to enjoy marijuana without harassment."
"There is a very high chance that cannabis may end up being illegal again, so it's quite a very high stake right now," Chokwan Chopaka of the People's Network for Cannabis Legislation in Thailand, which organized the event, told Voice of America.
Earlier this year, Thailand removed cannabis from its list of Category 5 narcotics, which also includes opium, and in June, it became the first nation in Southeast Asia to legalize the drug's cultivation for medical and culinary uses. But the step,…
Original Author Link click here to read complete story..