An owner of a Washington state dispensary was seen in a profanity-laced video berating a state trooper who pulled someone over near the marijuana shop.
"Get the f— off my lot… You're done. You did your due diligence. Get the f— off my f—ing lot," a woman in the video yells at a police officer.
The woman in the video has been identified as Amy Dalluge, the owner of marijuana dispensary The Green Seed in Moses Lake, Washington, according to local news outlet Source One News, as well as the woman who recorded the video and posted it to social media earlier this year. 
The video shows a Washington State Patrol trooper, identified by Source One News as Yasin Anwar, standing outside a pulled-over vehicle while Dalluge yells at him to leave the area. Anwar told the outlet that he pulled the vehicle over because the driver was not wearing a seatbelt, and that the driver pulled into The Green Seed's parking lot.
MICHIGAN MAN IN INFAMOUS PHOTO SHOUTING IN POLICE'S FACE UNMASKED GIVES HIS SIDE OF STORY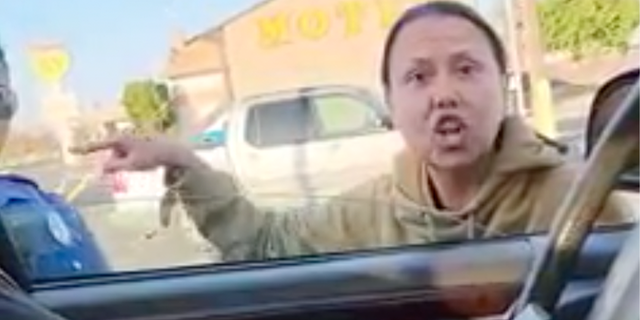 The cop is seen remaining calm during the exchange, including when Dalluge threw her hands up in the trooper's face and gave him the middle finger.
"All right, do you have any questions with that?" the trooper asks the driver of the car, referring to documentation regarding the traffic stop, as Dalluge continues yelling at him.
Original Author Link click here to read complete story..