As cannabis moves further into the mainstream, a handful of hospitality players are keeping current by way of weed-friendly partnerships and amenities.
In the lobby of the recently opened Ace Hotel Toronto, for example, guests will find a phone that connects guests with a "budtender" at one of the cannabis retail brand Superette's nearby outposts.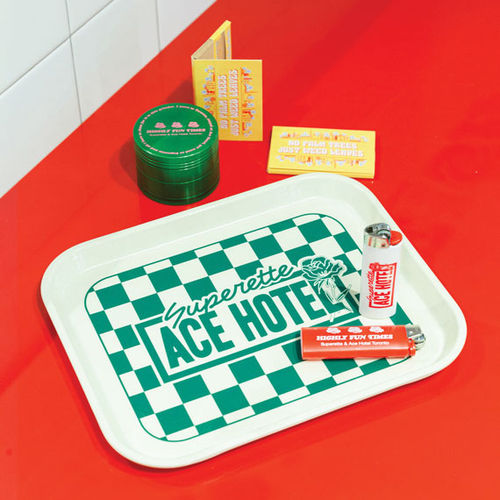 Cannabis-related paraphernalia recently launched as part of a partnership between Ace Hotel and cannabis retailer Superette. Photo Credit: Ace Hotel
Via a partnership between the hotel and Superette, guests can place a pickup order from a menu of items specially curated for the Ace. They include the 1:0 High AF, a SuperFlower Sunny Roses twin pre-roll pack that, according to Superette, pairs perfectly with "a friend and a long walk to Cherry Beach," a park on Lake Ontario.
Since October, a limited-edition collection of co-branded accessories — including rolling papers, a rolling tray and a lighter — have been for sale at the Ace, Superette's nearby location and online at the Ace Hotel brand shop.
Similarly, the Hoxton Downtown L.A. has linked with dispensary Green Qween, located just across the street, to offer guests more streamlined cannabis access.
Under the partnership, the pair have launched the Green Qween x The Hoxton Turndown Service, an amenity enabling "plant-loving guests" ages 21 and older to get in-room delivery of a customized box of cannabis products daily between 10 a.m. and 10 p.m. Guests can select from either a…
Original Author Link click here to read complete story..