We released this white paper to help CEOs and CSOs understand the key elements of nutraceutical development, going from Concept to Consumer. In our experience at least some of the steps in the process are not well understood, resulting in important scientific and regulatory gaps in the Concept to Consumer process.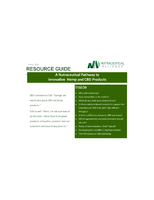 Inside
 Why CDB and hemp?
 How competitive is the market?
 What do you want your product to be?
 Is there evidence-based research to support the
intended use? Will it be safe? Side effects?
Allergies?
 Is there a difference between CBD and hemp?
 Which ingredient(s) and what format(s) should
we use?
 Route of administration: Oral? Topical?
 Developing the scientific / regulatory dossier
 The FDA stance on CBD and hemp
Original Author Link click here to read complete story..